Philip Gordon Wylie was an American author born in 1902. His works ranged from pulp science fiction satire, social diatribes, and mysteries to the threat of nuclear holocaust and ecology.
He was a writer o both fiction and nonfiction and even contributed to several Hollywood projects' screenplays. His works include hundreds of novels, serials, short stories, and works of social criticism. Most of his works contain critical philosophical views about the relationship between society and man.
His interests influenced his writings in psychology, physics, ethnology, and biology. Almost nine movies were made out of his novels and stories. He was one of the most prominent influences on twentieth-century comic books and science pulp fiction magazines.
You can see the influence of scientific and engineering influence on his work. His novels often involved radical topics at that time, like his novel The Disappearance in 1951 explored a world without the opposite gender. It explored the double standards between men and women and touched on homosexuality and women's rights issues.
Philip Wylie Quotes
God must hate common people, because he made them so common.- Philip Wylie
Material blessings, when they pay beyond the category of need, are weirdly fruitful of headache.- Philip Wylie
One good teacher in a lifetime may sometimes change a delinquent into a solid citizen.- Philip Wylie
We made up our own religions and pretended they came from outside us.- Philip Wylie
The first gold star a child gets in school for the mere performance of a needful task is its first lesson in graft.- Philip Wylie
Man's destiny lies half within himself, half without. To advance in either half at the expense of the other is literally insane.- Philip Wylie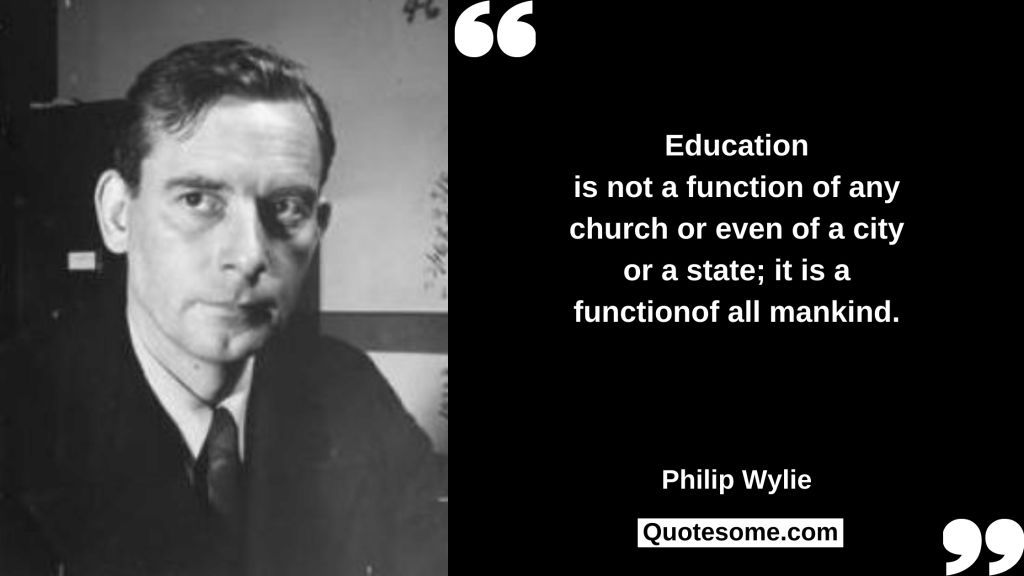 Education is not a function of any church or even of a city or a state; it is a function of all mankind.- Philip Wylie
Absolute dominion of a powerful people by a minority always produces national aggression.- Philip Wylie
The businessmen have corrupted liberty by trying to propose it as a material quality.- Philip Wylie