Arthur Schopenhauer was a 19th-century German Philosopher.  He is best known for his book "The World as Will and Representation." He was one of the first western philosophers to affirm and share Indian philosophies of asceticism, the notion of self-denial, etc.
He was also interested in Buddhism, as he wrote about the enlightened pessimism he found in the religion. His words try to reason that there is a powerful force within us that drives our reason, moral sense, and logic.
This "Will-to-life" helps us to always thrust ourselves forward, look to our advantage, and cling to existence. His most fascinating proposition was his idea of love. In his eyes, love was neither accidental nor disproportionate as it is connected to our existence's most crucial purpose- to have children.
He often said that he doesn't understand the fuss about love affairs, and there should never be any profound seriousness with which anyone should pursue it.
Arthur Schopenhauer Quotes
Reading is thinking with someone else's head instead of one's own.- Arthur Schopenhauer
Talent hits a target no one else can hit. Genius hits a target no one else can see.- Arthur Schopenhauer
Every man takes the limits of his own field of vision for the limits of the world.- Arthur Schopenhauer
Satisfaction consists in freedom from pain, which is the positive element of life.- Arthur Schopenhauer
Every man takes the limits of his own field of vision for the limits of the world.- Arthur Schopenhauer
The more unintelligent a man is, the less mysterious existence seems to him.- Arthur Schopenhauer
One should use common words to say uncommon things.- Arthur Schopenhauer
Hatred is an affair of the heart; contempt that of the head.- Arthur Schopenhauer
Obstinacy is the result of the will forcing itself into the place of the intellect.- Arthur Schopenhauer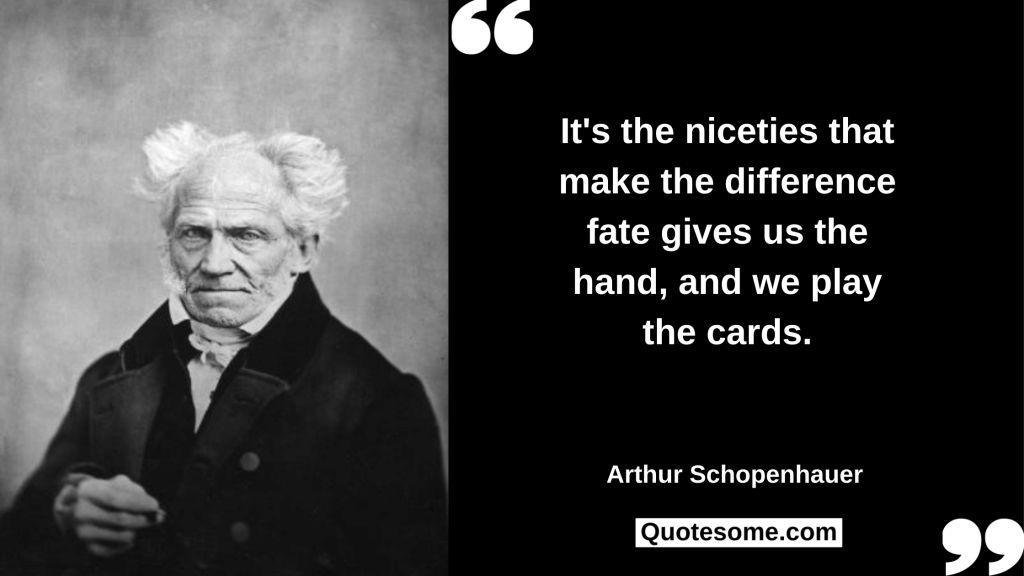 It's the niceties that make the difference fate gives us the hand, and we play the cards.- Arthur Schopenhauer