David Keith Lynch was born on January 20, 1946. He is an American actor, musician, filmmaker, and painter. He is best known for directing and writing movies like Mulholland Drive (2001), Blue Velvet (1986), The Elephant Man (1980), and Eraserhead (1977).
Critics often regard these films as some of the best films of all time. The T.V. series Twin Peaks (1990-91, 2017) is also one of his best works. Film critic Pauline Kael labeled him as the "first popular Surrealist due to his spectacular works." His accolades include- the César Award for Best Foreign Film twice, received three Academy Award nominations for Best Director, a Golden Lion award for lifetime achievement at the Venice Film Festival, and won the Palme d'Or at the Cannes Film Festival.
His movies are intriguing and push the boundaries for the next trend rather than sticking to some formulaic genre. His ideas and execution of the films and the writing still inspire millions worldwide.
David Lynch Quotes
I discovered that if one looks a little closer at this beautiful world, there are always red ants underneath.- David lynch
I don't remember my dreams too much. I hardly have too much. I hardly have ever gotten ideas from nighttime dreams. But I love daydreaming and dream logic and the way dreams go. – David Lynch
An artist makes a painting, and nobody bugs him or her about it. it's just and your painting. to me, that's the way it should be with film as well.- David Lynch
Life should be blissful, and blissful doesn't mean just a small happiness. it's huge. It is profound.- David Lynch
A lot of artists think they want anger. But a real, strong, bitter and anger occupies the mind, leaving no room for creativity. – David lynch
Happy accidents are real gifts, and hey can open the door to future that didn't even exist. It's kind of nice sometimes to set up something to encourage or allow happy accidents to happen.- David Lynch
Some things we forget. but many things we remember on the mental screen, which is the biggest screen of all.- David lunch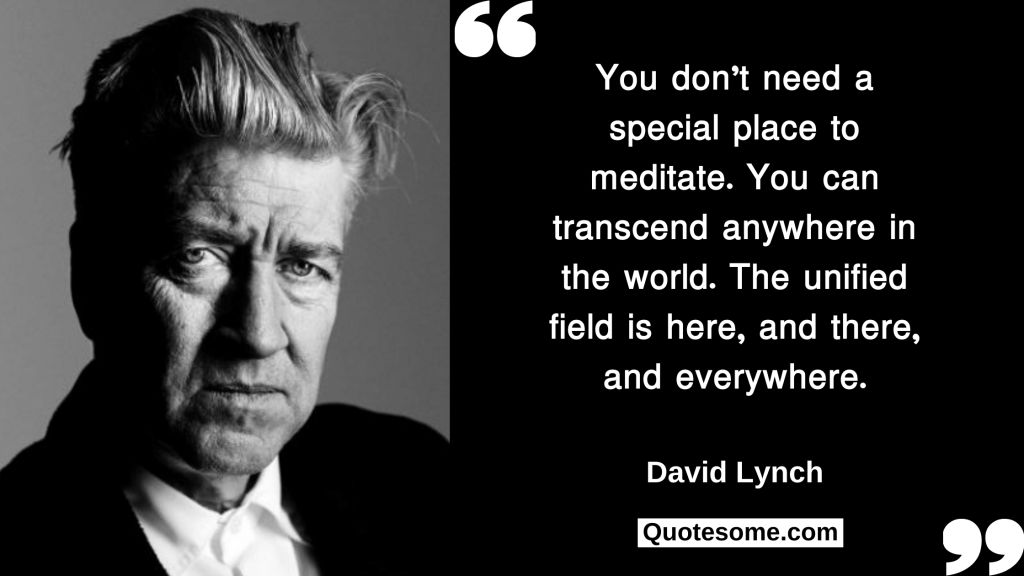 You don't need a special place to meditate. You can transcend anywhere in the world. the unified field is here, and there, and everywhere.- David Lunch
More and more people are seeing the films on computers- lousy sound, lousy picture- and they think they've seen the film, but they really haven't.- David Lynch
You're right on the money with that. We're all like detectives in life. There's something at the end of the trail that we're all looking for.- David Lynch