Ralph Waldo Emerson went by his middle name Waldo and lived from May 25, 1803 – April 27, 1882. He was an American lecturer, essayist, poet, and philosopher who was one of the pioneers of the mid-19th-century pioneers. He was a staunch critic of the countervailing pressures exerted by the society and championed individualism.
He propagated his beliefs through dozens of published essays and over 1500 public lectures across the country. He gradually moved away from the social and religious views of his contemporaries.
He expressed and formulated the philosophy of transcendentalism in his essay "Nature." He gave a speech following his work called "The American Scholar" in 1837, which was considered America's Intellectual declaration of Independence. Most of his critical essays were written as lectures first and then revised to be printed. His writings were mainly concerned with expressing freedom, individuality, and the ability to realize one's potential, the relationship between the surrounding world and soul, etc.
Ralph Waldo Emerson Quotes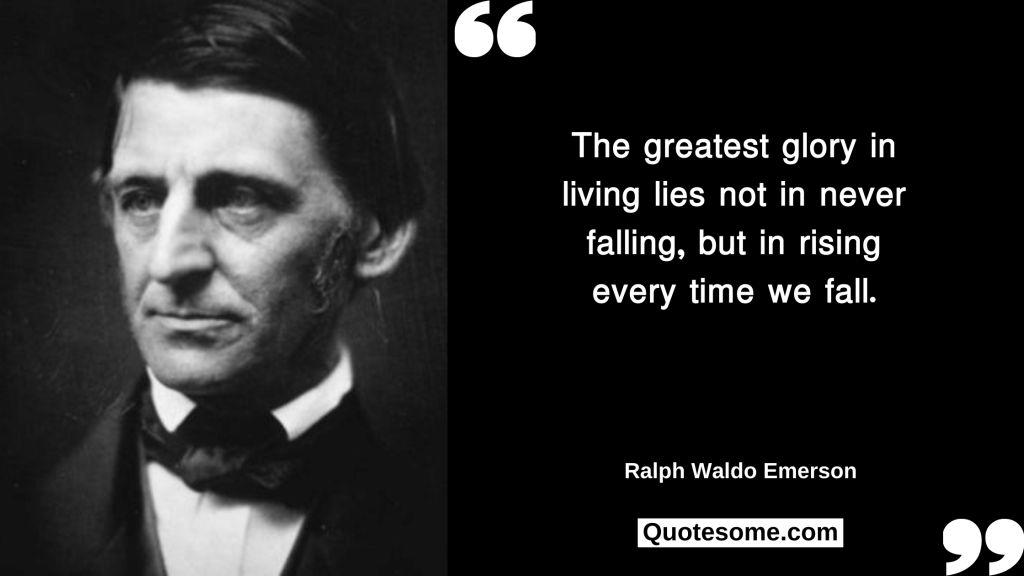 The greatest glory in living lies not in never falling, but in rising every time we fall.- Ralph Waldo Emerson
Shallow men believe in luck. Strong men believe in cause and effect.- Ralph Waldo Emerson
It is one of the blessings of old friends that you can afford to be stupid with them.- Ralph Waldo Emerson
The age of a woman doesn't mean a thing. The best tunes are played on the oldest fiddles.- Ralph Waldo Emerson
Passion rebuilds the world for the youth. It makes all things alive and significant.- Ralph Waldo Emerson
People do not seem to realize that their opinion of the world is also a confession of character.- Ralph Waldo Emerson
Enthusiasm is the mother of effort, and without it nothing great was ever achieved.- Ralph Waldo Emerson
A foolish consistency is the hobgoblin of little minds, adored by little statesmen and philosophers and divines.- Ralph Waldo Emerson
The invariable mark of wisdom is to see the miraculous in the common.- Ralph Waldo Emerson
Don't be too timid and squeamish about your actions. All life is an experiment.- Ralph Waldo Emerson