Bangtan Sonyeondan (BTS) is a sensational KPop boy band that has achieved heights of success since their start on June 12, 2013. Even the English name of the band, Beyond the Scene, has a perpetual and deep meaning behind its curation.
The Grammy-nominated band is not only known for their heavenly good looks but humble nature, bold statements, unmatchable lyrics, raps, and voices. The list can go on with the accomplishments of these 7 Kings of the most massive fandom, the ARMYs.
Debuted under BigHit Entertainment, the boys have now grown to become fine matured men with a great bond between them and their fans. In here we have hand-picked some of the best known BTS quotes that can surely uplift your mood within a blink of an eye.
Killer BTS Quotes – Swipe Your Problems Right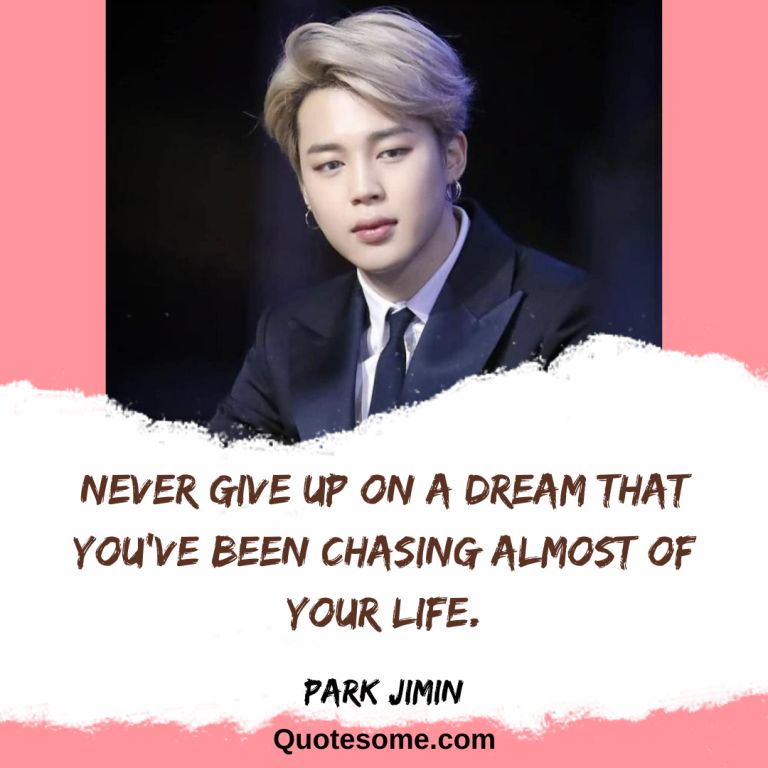 Never give up on a dream that you've been chasing almost of your life- Park Jimin
Born on October 13, 1995, Park Jimin is not only blessed with stunning looks, an angelic voice, and graceful dancing style; the singer has a lot to say to their beloved fanbase, the ARMYs. Having had to face a lot of difficulties to reach the top position, the singer is encouraging people never to leave their dream or passion. No matter what you want to be, no matter if anyone is there to back you up, just keep on going ahead, and you will surely achieve it one day.
I'd rather die than to live without passion- Jeon Jungkook
One of the youngest heartthrobs of a fandom consisting of 500M people, Jeon Jungkook is adorably named Kookie by his fans. Inexplicably talented, the 'Golden Maknae' of BTS is a living example for all those who are striving hard to achieve their passion. One of my favourite BTS quotes of all time, the singer and dancer has described his attitude towards his dreams in a mature and inspirational way.
You're really the only one who needs to acknowledge your effort- Kim Seokjin
The owner of the World's Most Perfect Male Face 2020, Kim Seokjin is no doubt an angel disguised as a human amongst us. The Visual and vocalist offers unimaginable voices in each of his songs coupled with incredible lyrics. The talented singer here asks us to be more loving towards oneself and have complete trust upon themselves. We are not born to impress others, but to do our duties, acknowledge our success, and forgive us for committing mistakes. It is we and only us who will be going through thick and thins till the end of our time.
19+ Suicidal Prevention Quotes to Help Someone You Love
Don't be trapped in someone else's dream- Kim Taehyung
The incredibly handsome vocalist of BTS with insane duality and a smooth husky voice, Kim Taehyung has the best proportions in almost everything. Raised from nothing to the fortune of a King, the singer often associates with deeper meanings, than an average person can do. In this statement, he asks every one of us, to not be crushed under someone else's expectations or dreams. It is okay to make others happy once or twice, but never to compromise your happiness for your whole life just for the sake of others.
Let's not push off the thingswe need to do today for tomorrow- Jung Hoseok
The Sunshine of 500M ARMYs with an ever-lasting smiley face, Jung Hoseok is the Lead Rapper of BTS. But don't go on these innocent looks, as his side profile and exposed forehead are here to kill. One of my favourite BTS quotes of all time, Hoseok, has wisely explained to us the importance of today and tomorrow. He encourages his followers to complete all work within the stipulated time without bumming it to the next day. So are you ready, to follow our Hobi's suggestions and be a better version of yourselves?
Favorite War Quotes of All Time
If i'm the sun, you're the moon. because when I rise, you go down- Min Yoongi
With gorgeous overall looks and voice to slay, lead rapper of BTS, Min Yoongi, aka Suga/AGUST D is not one to mess with. Previously having to choose between bus or meal, the badass rapper is now one of the wealthiest singers in the world. Known for his savage replies, this statement is one of the best BTS Quotes Suga has for his haters. The rapper talks back to anti-fans referring him to be in his prime as the Sun with continuous success.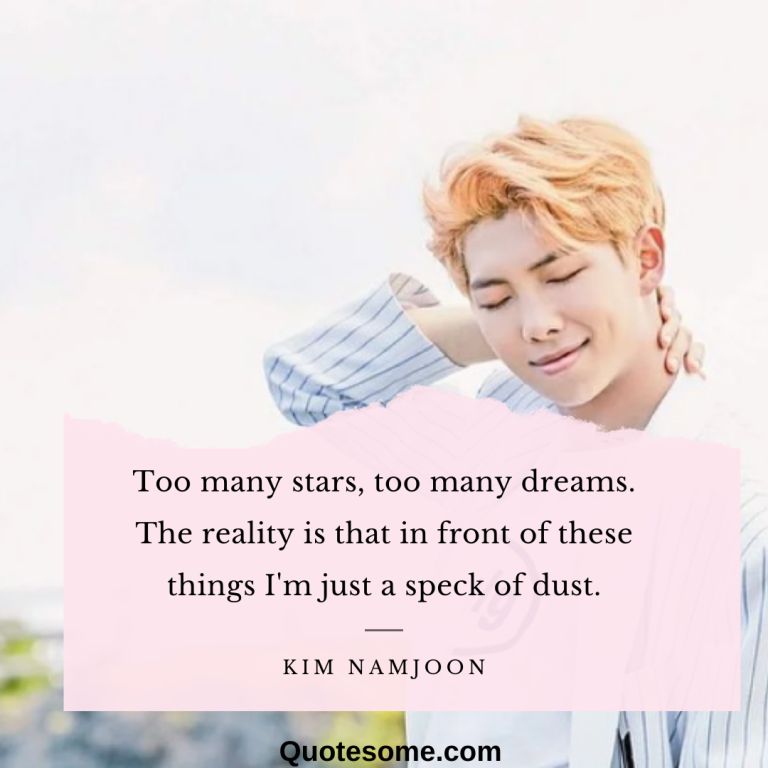 Too many stars, too many dreams. The reality is that in front of these things I'm just a speck of dust- Kim Namjoon
The coolest and the most inspirational leader, BTS and ARMYs could ever have, Kim Namjoon is a hardcore rapper. Widely known for his mesmerizing choice of words and motivational quotes, Kim Namjoon has always been benevolent to all the success. This quote is a real silence-breaker as the rapper focuses on motivating everyone to follow their dreams and not just watch someone do so. He has wisely referred him to as a speck of dust and not something exceptional as to you, me and all of us.
Tease your imaginations with HIM&HER
BTS quotes at UN General assembly 
Choices we make may not be perfect, but that does not mean there will be nothing we can do.
Rather than calling this corona generation a 'lost generation,' the term 'welcome generation' is more suitable. we will be a generation that welcomes change.
This isn't the lost generation but the generation who makes excellent moves with the limited choices they got.
There were times during the past two years when I too felt bewildered and troubled, but still, we had people who cried out 'let's live on, let's make the best of this moment.'
We can't stand still when we are in the ideal time of our lives to take on new challenges. It wasn't as if you could blame anyone. You must have felt the frustration… the world changed like if we were transported in a flash to a parallel one.
It was a time for us to mourn, for the things that this pandemic took away from us, a time to discover how precious each and every moment we had taken for granted was.
Everyone agrees that Climate Change is an important problem but talking about the best solution might be, that's not easy. It's a topic that is tough to make conclusions about.
I learned that there are many young people interested in environmental issues and choose it as their field of study. The future is unexplored territory, and that's where we, more than anyone, will spend our time. And they are searching for the answers.
Famous BTS lines
If you want to love others, I think you should love yourself first.
Living without passion is like being dead.
I have a big heart full of love, so please take it all.
Your presence can give happiness. I hope you remember that.
Even when this rain stops, when clouds go away, I stand here, just the same.
Emotions are so different in every situation and every moment, so I think to agonize every moment is what life is.
We're on some path that's set since we're born, but I still believe we can change some things. So I believe in my faith but I still don't believe in my fate.
10 Best quotes of BTS
Erase all sad memories. Hold each other's hands and smile.
Whatever, big or small, you are you after all
If you're enjoying these quotes, you'll love our collection of powerful depression quotes that will provide perspective.
The morning will come again. No darkness, no season is eternal.
Life is a sculpture that you cast as you make mistakes and learn from them.
Not so perfect, but so beautiful
Go on your path, even if you live for a day. Do something. Put away your weakness.
They say people live to be happy. If you actually think about what happiness is, it's nothing much. When you get to eat ramen after feeling really, really hungry, that's happiness.
I'm becoming weird. You can't go to the peak by being normal, baby.
Every moment is memorable to me.
Suga's favorite quotes
I think BTS is able to shine because we have fans.
In general, what fans talk about and think about become a very important source of inspiration to us, because we want to write something that's real to people, especially those who listen to BTS music.
I try not to be influenced by success or popularity.
I first paid attention to fashion when I was around 15, but I don't really care much about it these days.
Love yourself. Love myself. Peace.
We were born to be real, not to be perfect.
The words you say make bruises that never fade away.
In the end, they'll all judge me anyway, so whatever.
My mind is possessed by the word success.
BTS Quotes for BIO
Watch me bring the fire and set the night alight.
We'll keep going, and stay up until we see the sunrise.
There are hundreds of mes inside of me. I'm facing a new me again today. It's all me anyway.
It's the thought of being young.
I worked all night, every day, while you were playing in the club.
No matter what others say, don't listen.
Can't afford to be confused.
Guess I'm only human after all.
All the underdogs in the world, a day may come when we lose, but it is not today. Today we fight.
Just go instead of worrying.
BTS quotes for haters
Haters gon' hate. Players gon' play. Live a life, man. Good luck.
Throw a stone at me if you've done as much as I did. We go hard, we have no fear
If you're jealous, go to the hospital. Two weeks to heal.
Hide your jealousy. I can see your IP address.
I'll say hi, you'll say bye, a burnt tire, we're different.
Back yourself and look at the mirror. If you want to be a piece, make it an original.
While you guys play around the world, we're going around the world.
I like haters because I like animals.
BTS quotes about life
It's good to know that it's fine when things go in an unintended direction because you can always start over again. Keep calm, take the next-best option, and move forward.
Dream, though your beginnings may be humble, may the end be prosperous.
Life is tough, and things don't always work out well, but we should be brave and go on with our lives.
In life, one must be determined and not just go with the flow.
When things get hard, stop for a while and look back and see how far you've come. Don't forget how rewarding it is. You are the most beautiful flower, more than anyone else in this world.
You should build your own goals and dreams. I think it's really sad that some people don't get a chance to build their own dreams because of outside pressure.
Failure is the mother of success mother. I learned from that passion and sincerity.
Without anger or sadness, you won't be able to feel true happiness.
To the world, you may be one person. But to one person, you may be the world.
Even the nicest persons have their limits.
Inspirational BTS quotes 
I have come to love myself for who I am, for who I was, and for who I hope to become.
In the middle of the road, in the moment you want to give up, shout out even louder: "So what?
Your presence can give happiness. I hope you remember that.
It's all right to not have a dream, if you have moments where you feel happiness for a while.
Isn't a man someone who doesn't care about what others think? A man does whatever he wants.
I believe in myself. My back hurts in order to let my wings sprout.
I'm always afraid of making mistakes. I think I was born with that.
When I perform my role well, I feel proud.
There are a lot of things that we want to show people, and if you try to show everything about us in a single album, it's a burden for us – and it's a lot for people to handle and accept.
Savage BTS quotes 
Throw a stone at me if you have done as much as I did.
Look up and we are all looking at the same sky.
If your skills were long hair, mine would be eyelashes.
You are the reason why we have warning labels on everything.
Keep talking and maybe someday you'll say something intelligent.
Proof you can walk through hell and still be an angel.
BTS jin quotes
You should always smile in life.
People succeed when others say negative things.
You worked hard. Keep trying your best.
Only you who needs to know how hard you work.
Everything becomes a bad thing when you think negative. When you think positive, it becomes better. That's what I believe.
Even if you're ready, you need luck to succeed. So I hope that luck is always with you.
Worries. Everyone has worries. You might feel a little unhappy when you have them, but it will pass, and soon after you'll feel happiness again.
Have confidence in your face from the moment you wake up.
'I love you'. That's a nice thing to say.
Good influence becomes bigger when it's shared.
If we all gather our embarrassment together, it'll become confidence.
BTS jimin quotes
I feel that we are only running forward without rest. I hope that we can find time to relax and smile a bit more.
I want to grow further and faster so I can show them a really great performance. In my head, I was telling the fans, 'I'll do the better real soon'.
I thought the phrase 'Love Yourself' would mean extra special to people who are harsh on themselves.
There is beauty in everything, just that not everyone sees it.
I was born suddenly in order to meet all of you. So please love me a lot.
I finally realized, so I love me, not so perfect but so beautiful. I'm the one I should love.
No matter how hard it is right now, think of what the result will make you feel.
It's alright if you started from right now. It's alright if you're in a good mood. It's alright if you do everything you want to do. It's alright if you miss Bangtan. Just be happy.
BTS short quotes
You worked hard, keep truing your best.
Those who keep trying without giving up are the ones who suceed.
No on eelese can take responsibility for you.
Silence is golden, don't waste time.
You are too young to let the world break you.
Without anger or sadness, you won't be able to feel true happiness.
Team work makes the dream work.
BTS quotes for Instagram
I wish love was perfect as love itself.
I don't have money but I wanna relax.
I wanted to be a warm wave, but why didn't I know you're the ocean?
Feels like I'm walking across the sky
Come here, I'm your paradise.
I grew a flower that can't be bloomed in a dream that can't come true.
Every time I see you, my heart gets dangerous.
BTS quotes for DP
Moonchild don't cry. when moon rise, it's your time.
Effort will never betray results.
The dead leaves fall tike tears.
Unless you open up and share your feelings, no one can understand what you are going through.
I wanna hold your hand and go to the other side of the world.
When you guys partied, I gave up sleep for my dreams.