Aaron Hillel Swartz lived from November 8, 1986 – January 11, 2013. He was an internet hacktivist, political organizer, writer, and entrepreneur, and computer programmer.
He was the co-founder of the social news site Reddit and involved in website framework web.py, the organization Creative Commons, and the web feed format RSS the Markdown publishing format.
He also focused on civic activism and awareness. In 2011 he was arrested by the Massachusetts Institute of Technology (MIT) police for downloading academic journals and state breaking- and- entering charges after connecting the MIT network in an unlocked and unmarked closet.
He was charged with 35 years in prison, a cumulative maximum penalty of $1 million on the Computer Fraud and Abuse Act, restitution, asset forfeiture, etc. after his pleas bargain was rejected, he hanged himself Brooklyn apartment. He was given a place in the "Internet Hall of Fame" in 2013 after his death.
Aaron Swartz Quotes
Assume nobody else has any idea what they're doing, either.- Aaron Swartz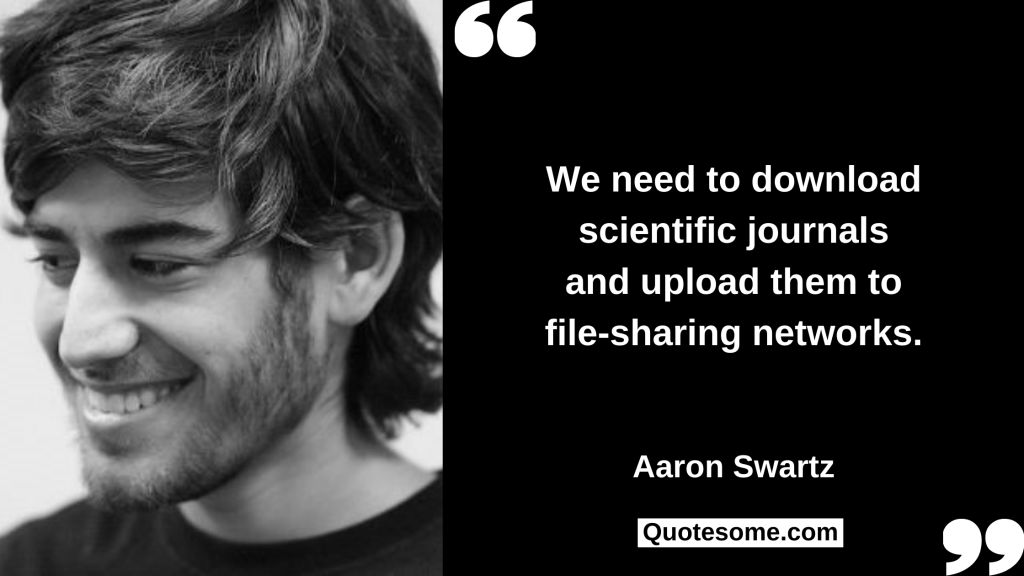 We need to download scientific journals and upload them to file-sharing networks.- Aaron Swartz
Without the ability to talk about government power, there's no way for citizens to make sure this power isn't being misused.- Aaron Swartz
Now, as far as I know, nobody has ever put up the U.S.'s nuclear missiles on the Internet. I mean, it's not something I've heard about.- Aaron Swartz
Information is power. But like all power, there are those who want to keep it for themselves.- Aaron Swartz
No, you can't force other people to change. You can, however, change just about everything else. And usually, that's enough.- Aaron Swartz
Life is short … so why waste it doing something dumb?- Aaron Swartz
Creativity comes from applying things you learn in other fields to the field you work in.- Aaron Swartz
I don't want to be happy. I just want to change the world.- Aaron Swartz
Now everyone has a license to speak, it's a question of who gets heard.- Aaron Swartz